Product Description: 
Low-profile hand and thumb CMC support is ideal for carpal tunnel or de Quervain's release.
Designed to provide light support and compression around the wrist and across the thumb CMC joint.
Slightly tacky gel pad adheres directly onto the skin to protect, soften and desensitize scar areas.
Ideal for use on incision sites to help desensitize and prevent hypertrophic scar formation after de Quervain's and carpal tunnel release.
The Hand/Thumb CMC Wrap is made of 3.0mm (1/8") Comfortprene™ material with a soft, terrycloth liner. Fastens with hook and loop.
Includes hook-backed gel pad.
The silicone gel pad measures 1/8" x 2-1/2" x 1-1/2" (3.2mm x 6.4cm x 3.8cm).
Hypoallergenic and nontoxic with an indefinite shelf life.
Effective for up to six weeks.
Gel pads can be cut for a custom fit.
Replacement gel pads are available.
Fabriform® Gel Supports are also available.
Available in black.
Sizing:
Small: Up to 3" (8 cm) 
Medium: 3 - 1/2 (9cm) 
Large: Over 3-1/2" (Over 9cm)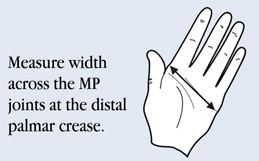 *Need this item right away? Please contact the Dublin Healthy Living Center to purchase: 
Dublin Medical Offices: (925) 556-4297
Available to ship anywhere or pick up at your local Kaiser Permanente facility.