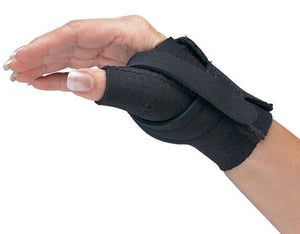 Product Description: 
Provides direct support for the thumb CMC joint while allowing full finger function.
Patented contoured neoprene strap wraps around the thumb CMC joint and the first metacarpal for direct CMC joint support.
Specifically designed for osteoarthritis and medial subluxation of the thumb CMC joint.
Reinforced stitching allows the splint to be trimmed below the thumb MP joint if desired.
Provides gentle compression that helps relieve thumb discomfort associated with CMC joint arthritis and/or instability, tendinitis or repetitive motion.
Made of thin, 1/16" (1.6mm) perforated neoprene with a terry cloth liner that helps keep skin cool and comfortable.
Plus sizes are a half size bigger in the hand and a full size larger in thumb circumference to accommodate enlarged thumb conditions.
Not made with natural rubber latex.
Anti-microbial.
Sizing:
*Need this item right away? Please contact the Dublin Healthy Living Center to purchase: 
Dublin Medical Offices: (925) 556-4297
Available to ship anywhere or pick up at your local Kaiser Permanente facility.