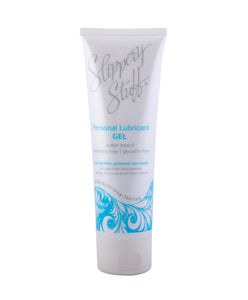 Product Description:

Millions of people have problems with dryness at one time or another. Slippery Stuff is formulated to match the body's own natural lubrication. For over 20 years, doctors and therapists have recommend Slippery Stuff personal lubricant to their patients.
Slippery Stuff Gel is unique water-based, glycerin free formula that was designed to help aid in muscle stimulation for female incontinence. Non-staining, fragrance free, dries clear. Clean without leaving a sticky residue. 
Features:
Glycerin and Oil-FREE
Eliminates dryness
Silky, safe, and long-lasting
Water based and water soluble
Odorless and non-staining
Dries clear and clean leaving no sticky residue
*Need this item right away? Please contact the Dublin Healthy Living Center to purchase: 
Dublin Medical Offices: (925) 556-4297
*Available to ship anywhere or pick up at your local Kaiser Permanente facility.